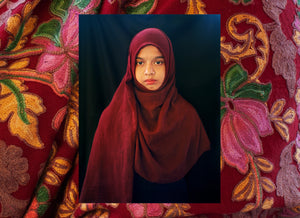 This is an attempt to resist the active erasure of a political movement.

Har Shaam Shaheen Bagh: One Hundred Days of Resistance, is an urgent and necessary record that collates photographs, drawings, maps, letters, songs and other material from the protest site. The book is testimony to the quiet resilience and tender songs of freedom of the women of Shaheen Bagh.
The movement
The Shaheen Bagh movement was born in the eponymous working-class neighbourhood, on a frigid Delhi winter night in 2019, when a small group of Muslim women came out of their homes and sat down in protest. They had occupied a stretch of road on one of the busiest highways in the capital. Mostly housewives, the women who had never been involved in a political movement before were protesting a ferocious police crackdown against the students of Jamia, one of India's premier universities.
This spontaneous yet radical act of solidarity went on to become an iconic site of democratic dissent that fuelled over a 120 countrywide sit-in protests. The Shaheen Bagh protest site that swelled at points to millions, with people joining from all across the country, continued over the next hundred days.
Earlier that summer, the ruling party had regained power with a thumping majority. No stranger to the politics of hate, they interpreted its sweeping electoral mandate to swiftly pass a suite of laws targeting India's constitutional commitment to secularism. Among them was the Citizenship Amendment Act. Together with the National Register of Citizens it threatened to strip over two hundred million of India's Muslims of their status as legal citizens. Protests erupted across country. Shaheen Bagh, the epicentre of this movement was splashed across newspapers and broadcast on television night after night.
On 23rd of March, 2020 when the pandemic sent India into lockdown, the state used this as an opportunity to destroy the protest site. All traces of it were erased and painted over.
The book
Har Shaam Shaheen Bagh was made across several days and nights, over innumerable meals of biryani, warm embraces and tender exchanges. In the first week of January I joined the Shaheen Bagh movement as a protestor. As friendships were struck, and chai and biscuits shared, I began to make images.
This growing intimacy soon took on a tactile form of exchange. For every portrait I made, I created an identical Polaroid or "jadoo ka kaagaz" as they were playfully renamed, to give the women and children I photographed.
Some of the portraits have been layered with images of shawls and burqas worn by fellow protestors, to evoke the camaraderie and kinship that formed the essence of Shaheen Bagh. We soon had an impromptu photo studio as my documentation became a community exercise. As one woman cajoled her shy mother-in-law to have her picture made, "My mum saw my photo from yesterday and really wants you to make one of her too," others brought their cousins and children in for family style pictures. Also included in the book are drawings made at the on-site crèche by the children who were waiting patiently while their mothers participated in the revolution.
From the women of Standing Rock and Black Lives Matter, the women of the Dandi March and the Chipko Movement, for those at the frontlines of India's non-violent protests, this book is an act of remembrance, to preserve the powerful legacy of women at the forefront of historic revolutions.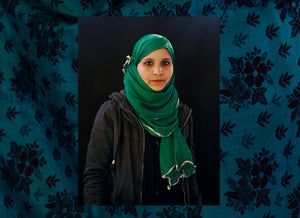 The artist
Prarthna Singh is a photographer whose work explores questions of identity and gender, especially as they intersect with the fraught politics of nationalism in contemporary India. Her images reflect on the economic and political trajectory of the country, drawing connections between feminine precariousness and vulnerability, on the one hand, and radical acts of courage on the other. Her practice negotiates how the two sides are inextricably linked. After completing her BFA in photography from the Rhode Island School of Design, Prarthna lived and worked in New York City. Currently she is based in Bombay.
Her work has been published in TIME, The New York Times Magazine, The Wall Street Journal, Wired, FT Weekend, Monocle, Bloomberg News and The Guardian. 
The designers
Sameer Kulavoor is a visual artist living and working in Mumbai, India. His work lies at the intersection of art, graphic design & contemporary illustration and has taken the form of paintings, murals, books, zines, prints and objects. He is interested in why things look and work the way they do; constantly noting and understanding the impact that time, culture, politics and socio-economic conditions have on our visible and invisible surroundings. In this age of visual overload, his work involves filtering, dissecting, documenting and defamiliarising commonly seen subjects through the act of drawing, painting and design – often oscillating between instinctive and conceptual methods of making.

Zeenat Kulavoor is a Typographer + Graphic Designer based in Bombay, India. She works with multiple Indian scripts and specialises in Urdu type, lettering & calligraphy. She believes that the Urdu script has endless creative possibilities and intends to change the perception towards the use of Urdu in India - which currently is widely perceived to be limited to religious usage. Using tongue-in-cheek humour and wit, combined with the use of scale, different mediums and varied print making methods, Zeenat is working towards reinventing possibilities of how the script can be a part of regular day to day life. 

Apart from her typography work, she is the Creative Director at Bombay Duck Designs and runs a design store called Bombay Duck Shop that sells select books, zines, prints and objects that blur the boundaries between illustration, art & design. 
A portion of the book sales have been donated to Jeevan Stambh, an NGO formed in 2020. During the first lockdown, their volunteers helped send over 6000 migrants to their homes. Since then, they have dedicated themselves to providing relief during Covid, the riots in north-east Delhi and to flood affected areas in Assam. 
In the wake of the recent demolition in Jahangirpuri, Jeevan Stambh has narrowed in on a list of 45 people who lost their livelihood. Their field volunteers are verifying and doing an assessment to provide immediate relief to help build their lives. If you would like to donate to them, please follow this link.